Whitefish Bay High School
Class of 1962
In Memory
Bill Edge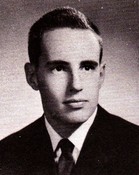 Bill Edge
Date Deceased: 08-09-2003
Age at Death: 59
Cause of Death: Multiple Myeloma - renal failure
Classmate City: Old Lyme
Classmate State: CT
Classmate Country: USA
Survived By: wife - Caroline Brewer Edge brother - David Stanley Edge sister - Jane Claire Edge Tarr 2 nieces and 2 nephews.

Bill helped create and was Executive Director of Libraries On Line - affectionally known as LION - in Connecticut - a computer consortium of 27 libraries mostly in Southeastern CT. He worked there for 17 years. In 2000 he was named Connecticut Librarian of the Year by The connecticut Library Association. Bill was married to the Rev. Caroline B. Edge, a United Methodist pastor and lived with her in six appointments in Massachusetts and Connecticut. He was an ardent chorister singing in community choruses and church choirs. He built three harpsichords and was instrumental in the selection and purchase of an Andover Organ Co. tracker-action pipe organ for Lee Memorial UMC in Norwich, CT. He loved sailing - owning serveral boats - the biggest a 30-ft Catalina he named "Carpe Diem". That was after he was diagnosed with currently uncurable cancer in 1997. He lived 6+ years after diagnosis seizing every day as he was able. He and Caroline had a summer cottage on a lake in New Hampshire as well as a year-round home in a beach association in Old Lyme, CT. He also enjoyed bird watching and playing bridge. Bill is buried at Duck Island Cemetary in Old Lyme. He is dearly missed by all of us who loved this wise, humorous, good-looking, justice-loving man.


Published in The Hartford Courant on August 12, 2003
William Fred Edge Jr.
William Fred Edge, Jr., 59, of Alfreton Road, Needham, MA, died Saturday, (August 9, 2003) at the Cheshire Medical Center, Keene, NH. He was born in Dover, DE, May 29, 1944, the son of Rev. William F. and the late Jeanette Cynthia (Evans) Edge, and had resided in Meriden, White Fish, WI, Southwick, MA, Newburyport, MA, Norwich, Holden, MA, and Old Lyme, prior to moving to Needham, MA. Mr. Edge graduated from the White Fish Bay (WI) High School in Milwaukee, class of 1962 and then went on to graduate from Lawrence University in Appleton, WI and received his Masters in Library Science from the University of Rhode Island. Mr. Edge served as Captain in the USAF during the Vietnam era. Mr. Edge was the founding Executive Director of Libraries On Line Inc. - a non-profit computer consortium serving 21 libraries in Connecticut, for 17 years. He had been a librarian in the towns of Westfield, MA, Chelmsford, MA, and New London. He was a member of the Congregational Church of Old Lyme. He was a member of the Connecticut Library Association and had been named the Librarian of the Year by this association in 2000. Mr. Edge enjoyed classical music and sang in a number of choral societies. He had built three harpsichords and was an avid sailor. Survivors include: his wife of 33 yeers, the Reverend Caroline (Brewer) Edge, Pastor of Carter Memorial UMC, Needham, of Needham; a brother, David S. Edge of Neilsville, WI; a sister, Jane Tarr of Appleton, WI; five nieces and nephews; two great nieces and nephews; a aunt, and several cousins. Services for Mr. Edge will be held Saturday, August 16, at the Congregational Church in Old Lyme at 1 p.m. Calling hours will be held at the Carter Memorial United Methodist Church, 800 Highland Avenue, Needham, MA on Friday, August 15, 4-8 p.m. Burial will take place at the family lot in the Duck River Cemetery in Old Lyme, immediately following the service. In lieu of flowers, gifts may be made in the memory of Mr. Edge to the Needham Interfaith Habitat House, PO Box 414, Needham Heights, MA, 02494 or to the Music Memorial Fund of the Congregational Church of Old Lyme CT, Lymne Street, Old Lyme, CT 06371 or to the Multiple Myeloma Research Foundation, 3 Forest St., New Canaan, CT 06840. The Fletcher Funeral Home, & Cremation Services, 33 Marlboro Street, Keene, NH is in charge of the arrangements.
: