Whitefish Bay High School
Class of 1962
In Memory
Michael Wolffs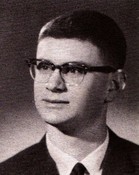 Born in Haifa, Israel on 24 May 1944 to Benno Wolffs and Irma Frank. He passed away on 20 Aug 1990 in Atlanta, Georgia, USA.
Excerpts from his mother's obituary:
Former Milwaukeean Irma Wolffs died July 16, 2001 of cancer in Atlanta. She was 86.
Born in Germany, she and her late husband, Benno Wolffs, immigrated to Palestine on a boat that was blown up in the harbor rather than be diverted to Cyprus. They swam to shore only to be held by the British in a detention camp. In 1952, they came to Milwaukee from Haifa to reunite with longtime friends and former neighbors in Germany, Harri and Herta Hoffmann.
In addition to her husband, she was preceded in death by her son, Michael Wolffs of Atlanta.