Whitefish Bay High School
In Memory
Bob Wolf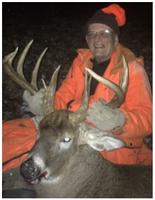 Obituary
Robert "Bob" Wolf age 76 of Ferryville passed away Saturday, December 5, 2020 at Crossing Rivers Healthcare following a brief illness. He was born February 2, 1944 in Milwaukee WI, the son of Alfred and Rose (Bonk) Wolf. He graduated from Whitefish Bay High School in 1962 after which he entered the U. S. Air Force with his good friend Bob Race under the buddy system. He and Bob served their country for the next four years, with his buddy being sent to Spain, and Bob spending his last year in the Air Force at the air base in Thule, Greenland. Bob always said, "The military wanted their best men as the country's last line of defense", so they stationed him in Greenland for his last long year!
After his service to the country, he returned to Whitefish Bay, & became a Firefighter for the village of Brown Deer. Shortly after, Bob accepted a job for the City of Brookfield Fire Department. He served the citizens of Brookfield for 28 years, & retired as an Equipment Operator. He was a proud member of Brookfield Firefighters Union L-2051, & Professional Firefighters of Wisconsin. During that time also, Cindy & Bob were owners/operators of B's Lawn Care Service, where the motto was, "We do a Honey of a Job"!
Following his retirement from the firehouse, Bob, Cindy, and his German Wirehairs moved to their farm in rural Ferryville. Out on the farm, Bob was living a lifelong dream by riding his ATV, planting food for wildlife, cutting firewood, clearing brush, and taking care of the farm. Among his love for the outdoors was obviously hunting his farm also for deer, turkey, ducks, squirrels, morel mushrooms, and whatever else the earth provided. Over the many years, Bob's love for hunting waterfowl, upland birds, and fishing took him across the Midwest, and into Canada. From places such as Ontario & Saskatchewan, to North Dakota, South Dakota, Missouri, Nebraska, Iowa, Oklahoma, Texas, and right here at home on the Horicon Marsh and the Mississippi River. Also, usually found on his hunting trips along with his trusted Benelli, he would have one his German Wirehairs with him. Now, they may have not have listened to him all the time, and he had to blow the whistle once in awhile, but that's what happened when the German girls and the German hunted together.
One fall ritual that Bob made time for every Sunday for 3 hours was to sit down and watch and yell at his Packers, I'm sure there were a number of games that the Packers could hear him yelling! He was a long time member of Ducks Unlimited, and Delta Waterfowl. During Bobs last 23 years here on his farm, and in the Ferryville area, he has met many people, and made many friends. Many stories told, nicknames were given for many, memories were made, and plenty of laughter. He will be missed by many!
He is survived by his wife Cindy, daughter Tammy(Maro) Luna, son Eugene "Geno" Wolf, grandchildren Alondra, Alexis, and Daniel, sister Joann (Paul) Feira, and very special friends Mark (Patty) Giese.
According to Robert's wishes there will be no formal funeral services at this time. A private family memorial service and burial will be scheduled for a future date.
To send flowers to the family or plant a tree in memory of Robert Wolf, please visit our floral store.