Whitefish Bay High School
In Memory
Debbi Goodman (Goodman-Smith)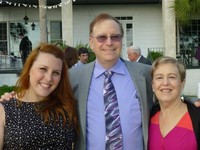 It is with a heavy heart that we inform the community that our beloved Debra Ann Goodman-Smith, passed away unexpectedly on Thursday morning, March 23, after surgery on Tuesday for a broken knee. She is survived by her loving husband, Peter Smith, daughter Nora Lynn, brothers Martin Goodman of San Francisco and Steven Goodman of Huntsville, AL, and her precious dog, Billy Joel.
Born on June 28, 1944 in Arlington, VA., Debbi grew up in Milwaukee, WI. She graduated from the University of Wisconsin with a degree in social work and then spent 2 years working for the US army in Germany as a social worker.
Debbi moved to San Francisco after Germany and worked at the
Brotherhood Way JCC. She was passionate about public service and spent her lifetime working with Jewish agencies in the greater Bay Area. In 1979, Debbi was hired by Jewish Family and Children's Services to head up their senior volunteer program. At JFCS she developed many special programs to benefit seniors, including Tenderloin Outreach Shabbat luncheons, Be the Wheels, and Senior Companions. She retired in 2011 after 32 years at JFCS but she still stayed in touch with many of her clients, visiting them with her dog through JCFS' Canine Corps.
Funeral services will be held at Home of Peace, 1299 El Camino, Colma on Sunday, March 26, at 2:00 pm. The family will be holding Shiva on Sunday, Monday, and Tuesday evenings from 7-9 pm at 285 Capistrano Ave., SF.
In lieu of flowers, donations in Debbi's memory may be made to: Pets In Need, Congregation Beth Sholom, or Camp Tawonga.