Whitefish Bay High School
Class of 1962
In Memory
Richard Berkoff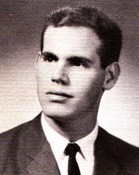 Berkoff, Richard Seth December 6, 2010, age 66 years, of Milwaukee.
Preceded in death by his wife Jean Badeau Berkoff, and his sister Ruth Fox. Dear father of Jennifer (Peter) Badeau Wickman. Cherished brother of Marshall (Bebe) Berkoff and brother-in-law of Michael Fox. Loving grandfather of Stella Jean and Maxwell Lloyd. Uncle of Mark Berkoff, Jonathan (Elissa) Berkoff, Adam (Jennifer) Berkoff, William (Christina) Fox and Elizabeth (James) Fox Ohana. Survived by his beloved great-nieces and nephews Alexander Berkoff and Bella Rachel Berkoff, Eliana and Kira Berkoff, Abra Berkoff, Lula Fox, Zachary Ohana, Chloe Ohana, and Sophia Ohana. Further survived by other relatives and friends.
Born April 1, 1944, Rick loved to make people laugh and delight them with magic of every sort. He graduated from UW-Madison and worked as an English teacher at Brookfield East in Milwaukee. Starting his career in advertising, Rick first worked with Leo Burnett in Chicago, followed by Satchi & Satchi in New York. Rick loved to travel and lived in 30 different places during his life. In the last years, he was happy to come home to Milwaukee and live at Chai Point.
A Memorial service will be held 11 AM Wednesday, December 8, 2010, at Kohl Family Synagogue in the Jewish Home and Care Center, 1414 N. Prospect Avenue. A visitation will follow the service. Memorial gifts to the Juvenile Diabetes Resource Foundation 434 S. Yellowstone Drive, Suite 202, Madison, WI 53719 or the Jewish Home and Care Center.